Magic: The Gathering and Dungeons & Dragons go together like peanut butter and jelly. Their sets and editions have influenced each other over the years at different wings of Wizards of the Coast. Commander Legends: Battle for Baldur's Gate gives the MTG player a chance to play with some of the most famous characters — and monsters — from the rich Forgotten Realms setting.
RELATED: Magic: The Gathering – Every God In Commander Legends: Battle For Baldur's Gate
The best art in this set marries the fantasy storytelling of D&D with flavorful MTG card designs. Baldur's Gate is the major port metropolis on the legendary Sword Coast, where all kinds of heroes and villains marshal their energies in high-flying conflicts. Dungeons, dragons, wizards, witches — they're all gathered here for a singular purpose: adventure!
10/10

Sharpshooter Elf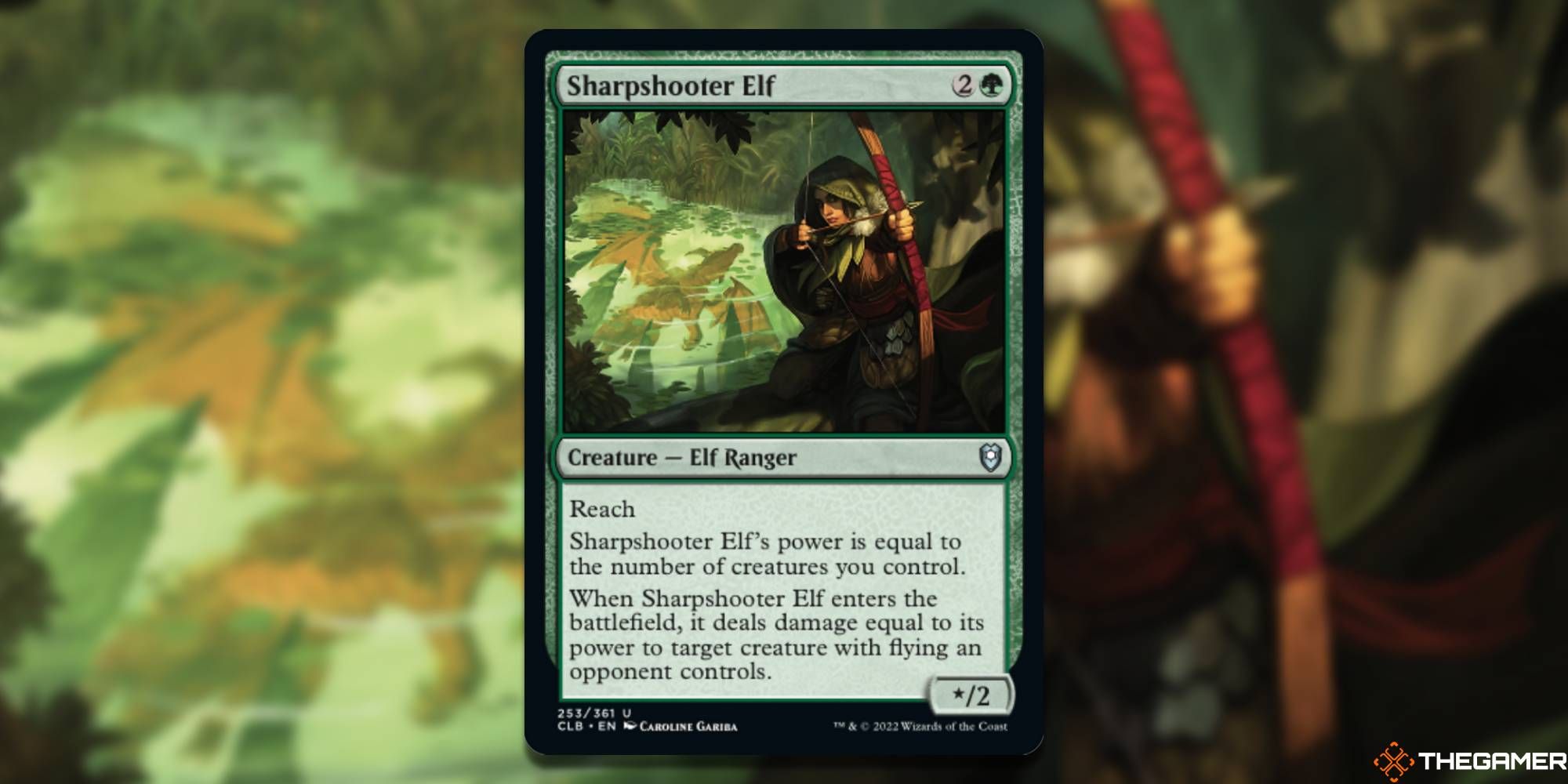 Sharpshooter Elf tells an elegant story within its art frame. The form of a dragon flying overhead is reflected in the pond behind Elf Ranger. From the shadows below the treeline, she aims at the great mark.
In order to fulfill the promised shot of this Elf sniper upon your table's sky tyrant, you just need to build an Elf deck populated with many helpers to herald her aim. The Elf Ranger is a classic D&D archetype and is a perfect starter character for anyone new to the tabletop role-playing game.
9/10

Astral Confrontation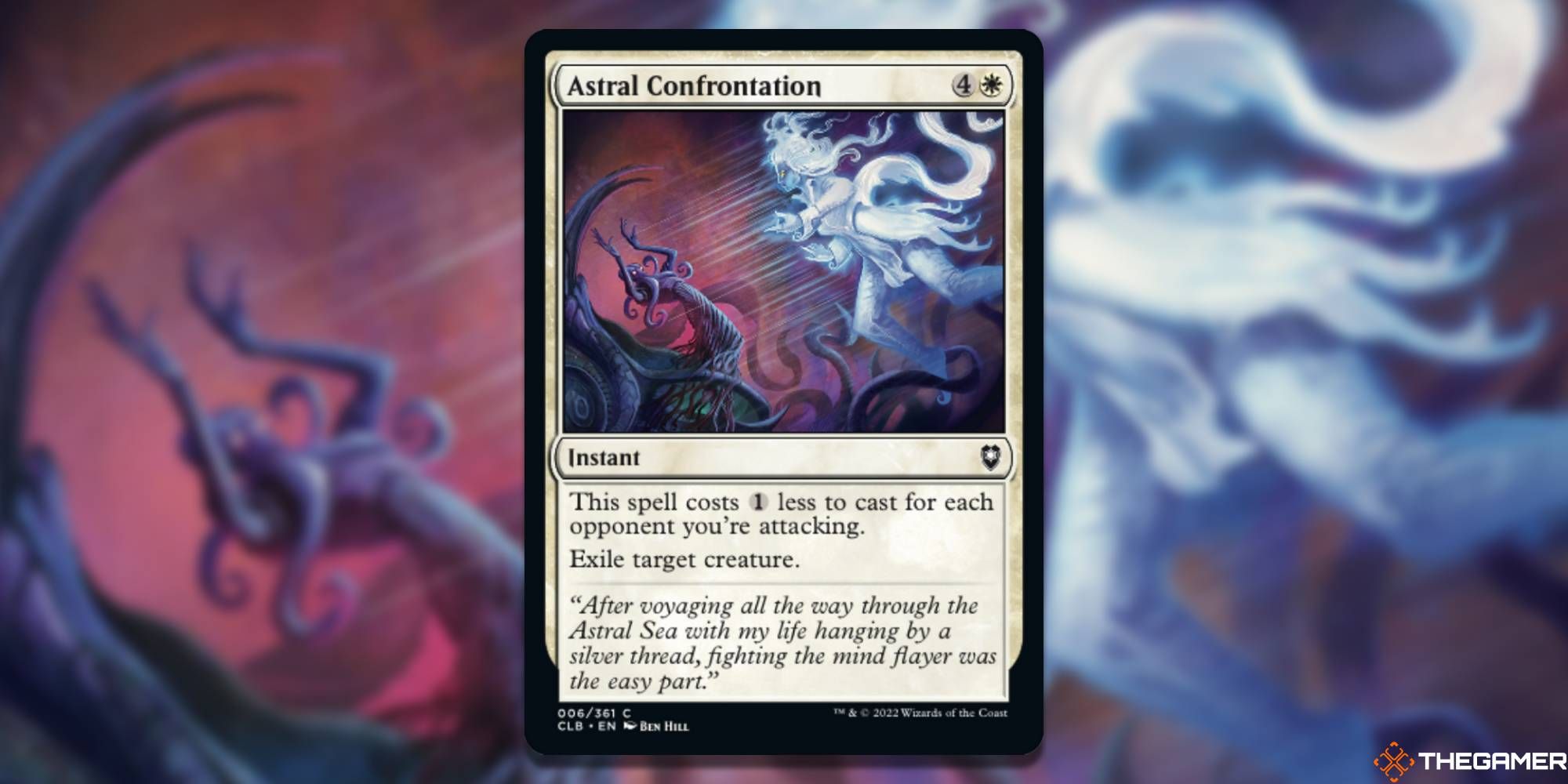 In the world of D&D, just like MTG, nearly anything is possible with the power of… magic. Astral Projection, a powerful mystical feat that can be achieved only by the most powerful mages, is similar to Luke Skywalker's old man in The Last Jedi.
Astral Confrontation allows a planeswalker to exile an opponent to oblivion for five mana or less. Ben Hill created the art. It shows an astral caster fighting an evil mind flayer with tentacles.
8/10

Oceanus Dragon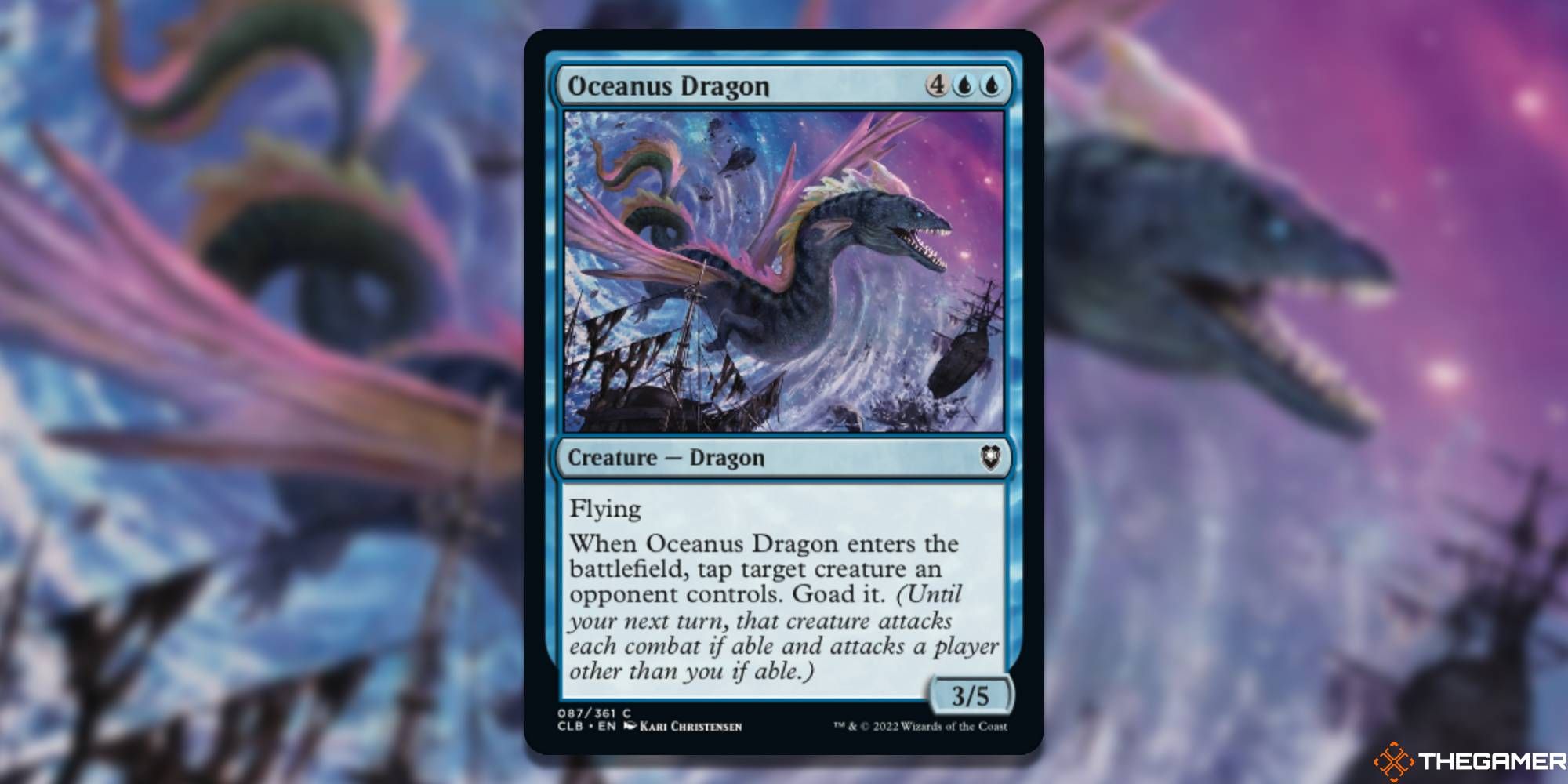 The dragon is the king in fantasy settings. The dragon, a gigantic, winged, powerful, and full of teeth, is the mythical tyrannical monster at end of the dungeon. They must be defeated in order to save the people and prove their worth.
RELATED: Ranking the Greatest Dragons in Video Games
Oceanus Dragon may not be as strong as the Ancient archetypes elsewhere in Battle for Baldur's Gate, but she's got a cosmic ocean spiraling around her. This amphibious planar Dragon is capable of controlling the extraplanar ocean and possessing lightning breath. Kari Christensen's painting showcases one emerging from somewhere out of time and space, tapping and goading an opponent's creature.
7/10

Ghastly Death Tyrant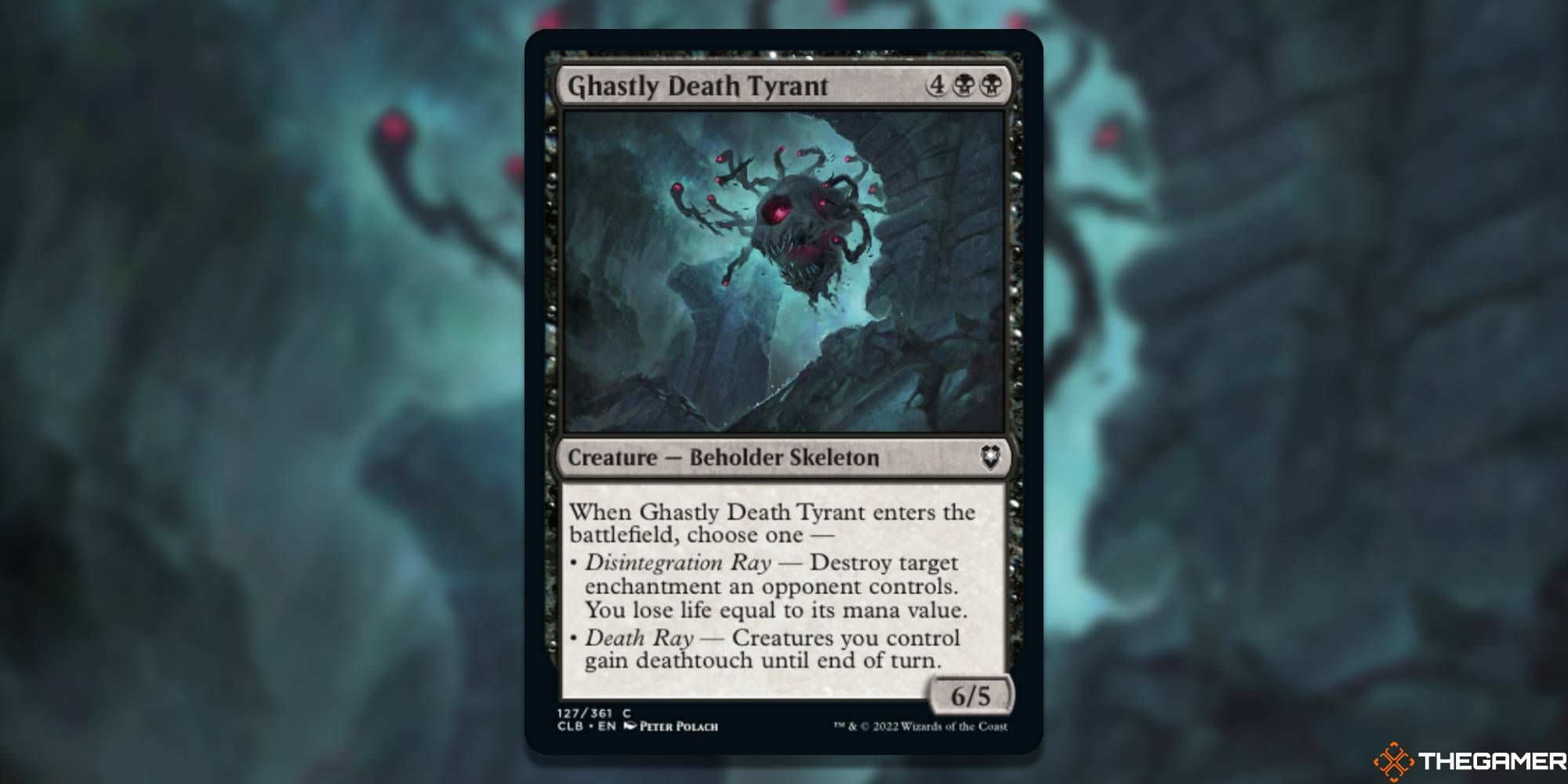 The one thing no D&D player (save for the Dungeon Master) wants to see: a beholder. Beholders are a master villain in D&D, and can shoot off a variety debuffing beams at everyone at once.
The Ghastly death Tyrant is the representation of the zombie beholder. It has thirteen red eyes that are ready to destroy. Peter Polach created a terrifying vision of an undead horror emerging from a cave ruin. When you cast this aberration, you get the delightful choice of "Disintegration" or "Death."
6/10

Displacer Kitten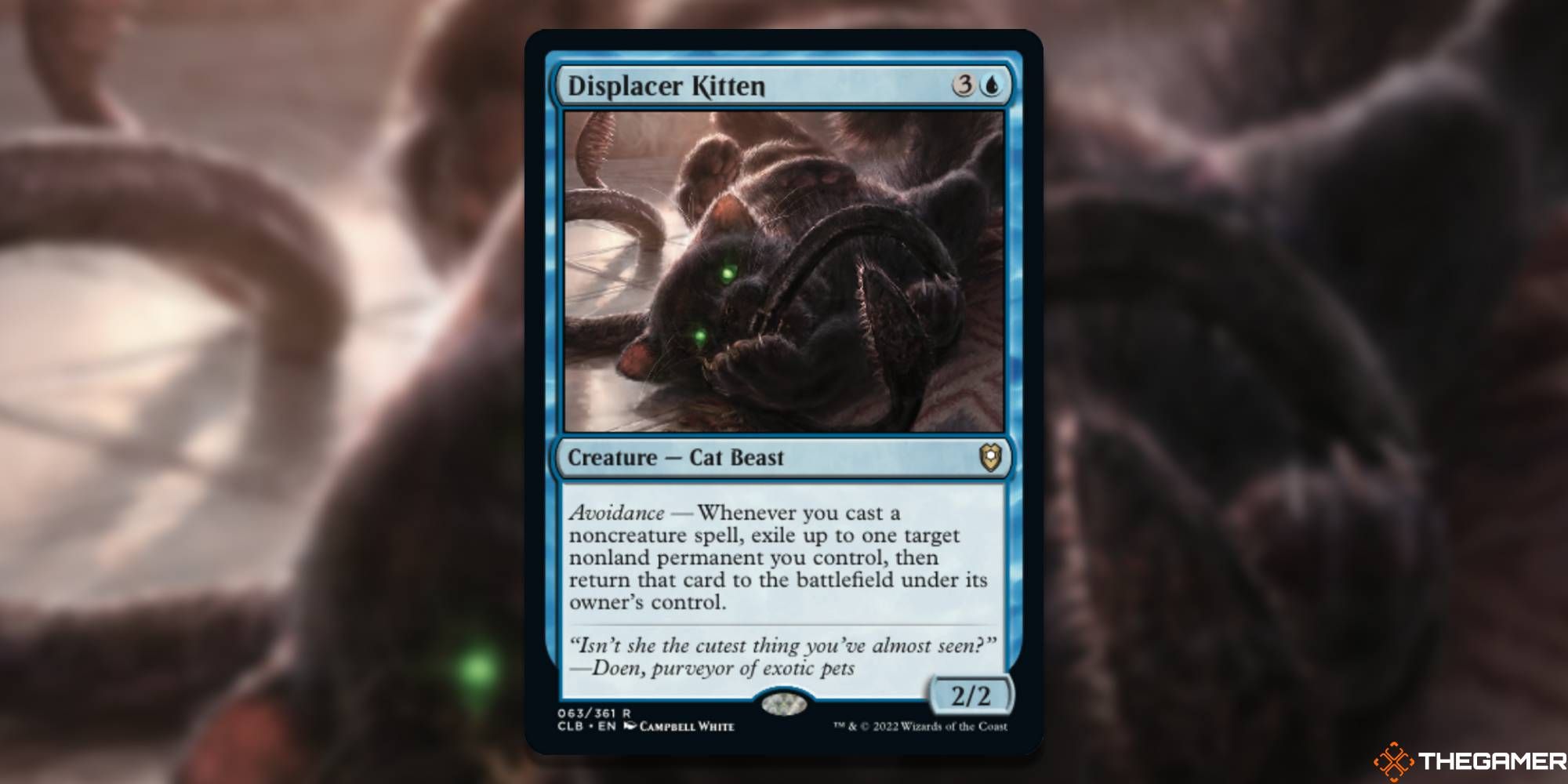 Displacer Beasts are a classic D&D monster, and sometimes pets for villains or more chaotic characters. They resemble black panthers — except for the six legs, the tentacles with teeth, and the fact that they always seem to be in two places at once. These cat carnivores have the magical ability to avoid attacks.
Displacer Kitten's glowing green eyes pierce the planeswalker with dread or delight, depending on your perspective. The kitten iteration of the Cat Beast is an adorable keystone for all kinds of powerful "enter the battlefield" combos.
5/10

Storm King's Thunder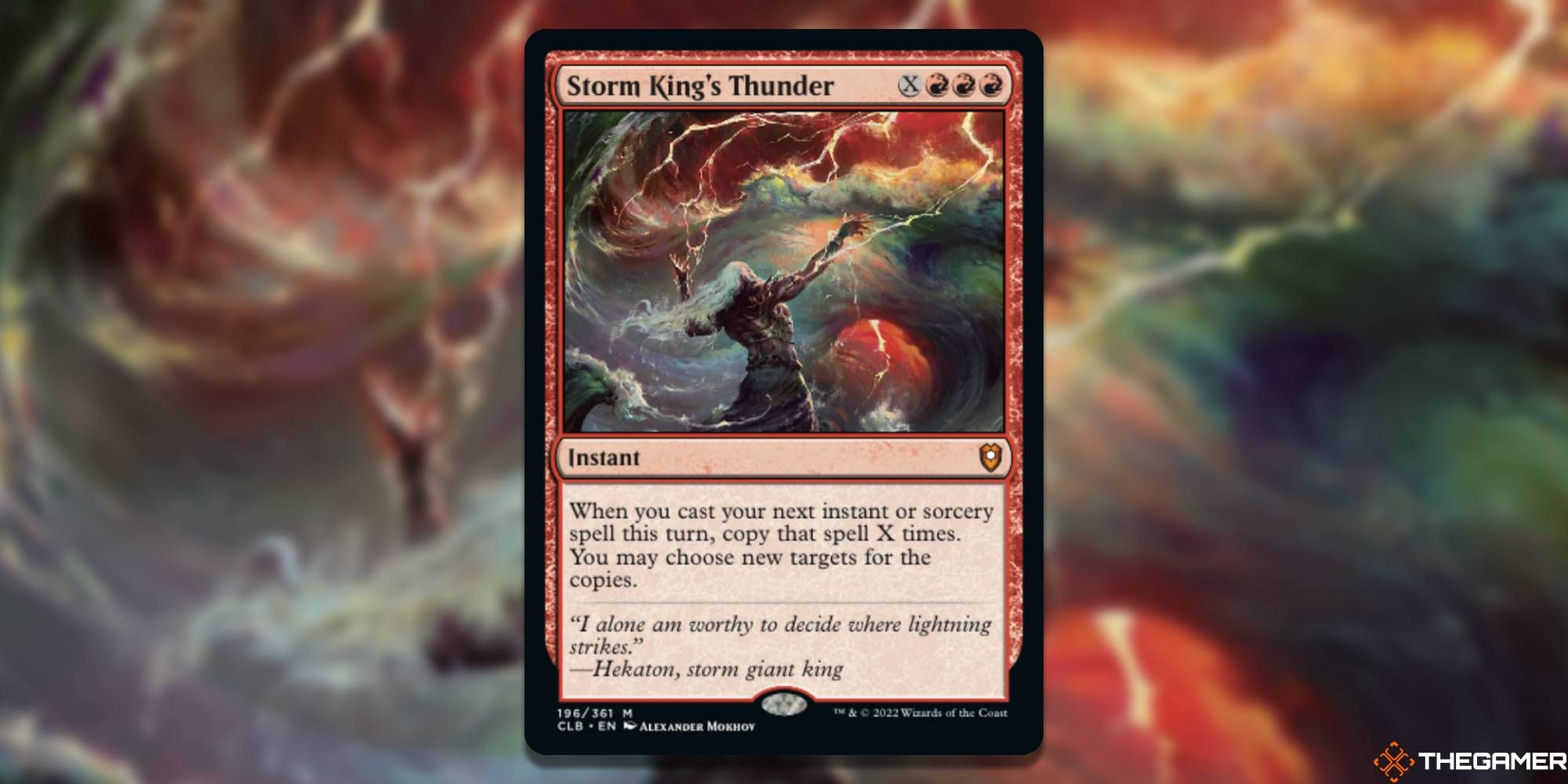 Hekaton, leader of the storm giants, heralds his rulership with the hallowed words "I alone am worthy to decide where lightning strikes." Such words are not hubris for the one with the power to back them up.
Storm King's Thunder is a mythic instant named after the D&D module of the same name from 2016, where players can eventually defeat mighty Hekaton. Alexander Mokhov's sublime art gives the X copying effect the colorful canvas it deserves. This spell can be used to cause the storm to strike exactly where you desire.
4/10

Owlbear Cub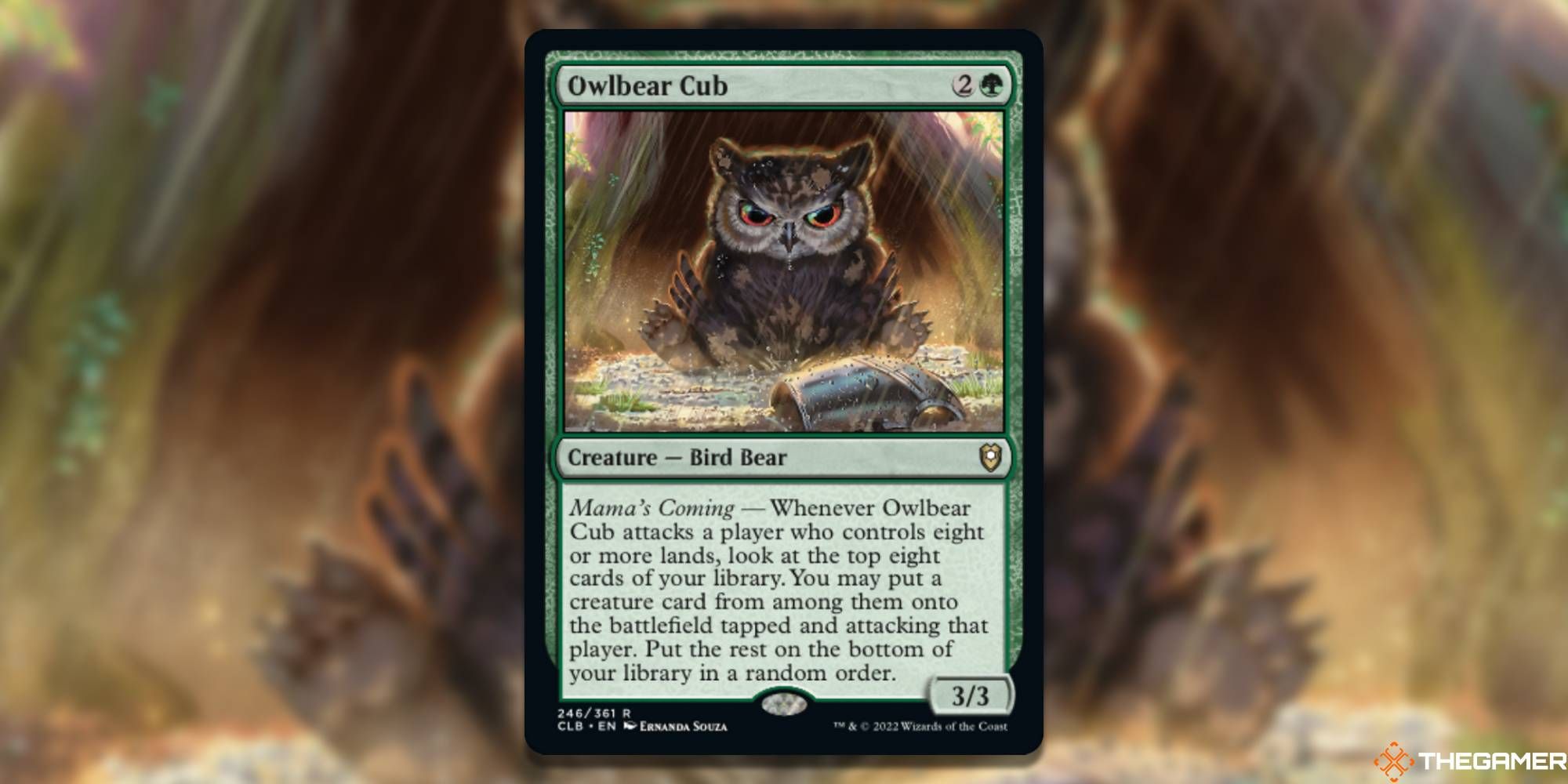 Baby bears are a great pet. As adorable as they may be, eventually "Mama's Coming." And owlbears are a special kind of scary – the wisdom of an owl combined with the ferocity of a grizzly. They are a foe D&D parties face off against in the forests, early and often.
RELATED: Dungeons & Dragons: Best Homebrew Races – D&D
Owlbear Cub is a photo by Ernanda Sauza that shows a little boy who's unhappy waiting at the base of the tree after a storm. Waiting, watching, and readying your Bird Bear for an attack to activate that call to mama bear gives you the chance to bring a smile to this cub's long day.
3/10

You can look upon The Tarrasque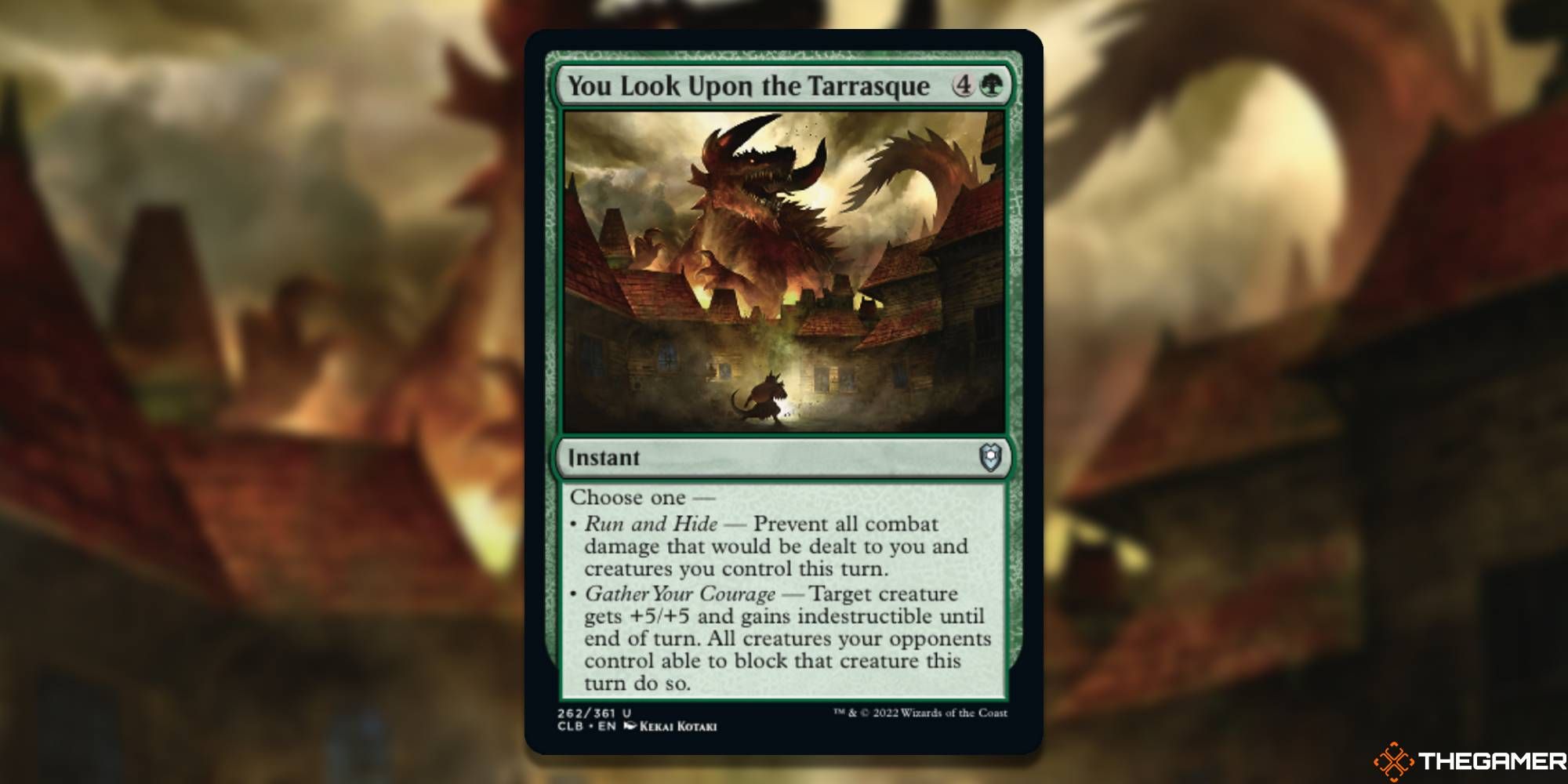 The Tarrasque is one of Dungeons & Dragon's mightiest foes. The "Gargantuan Monstrosity" is truly a titan of world-shaking destruction. One is enough to instill terror. It attacks five times per turn and can swallow people into acid. Only those with extensive weaponry and high levels of experience will stand a chance against one.
When facing Godzilla, You Look Upon The Tarrasque offers the player two options: Run and Hide or Gather Your Courage. This green instant's daunting art by Kekai Kotaki looks like something out of Attack on Titan, and provides a pair of extremely powerful effects for two entirely different circumstances.
2/10

Elminster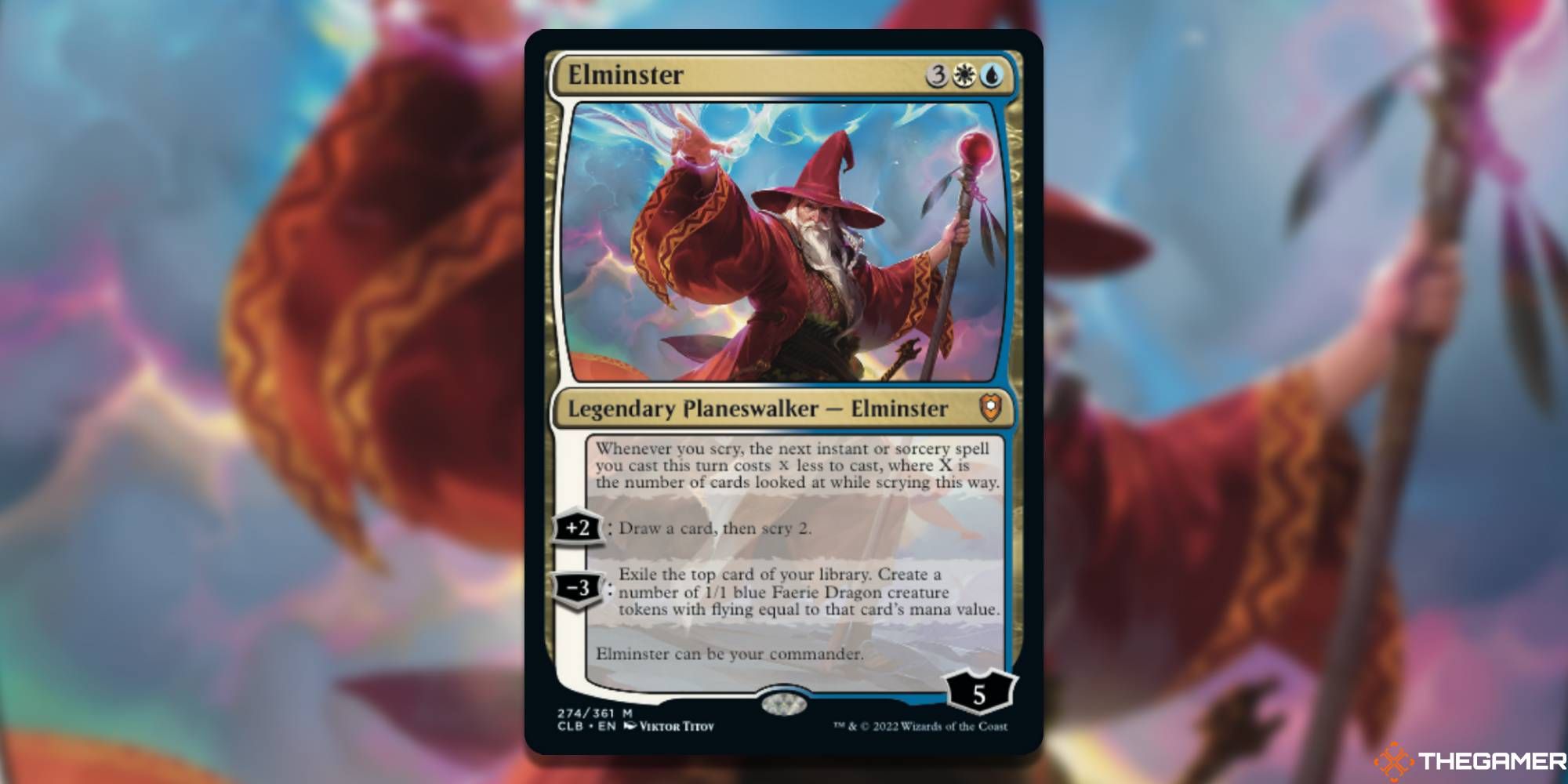 D&D is ultimately all about intriguing characters. Elminster is one the best. The "Old Mage" is the Forgotten Realms' foremost talent with a magic staff and pointy wizard's cap. From long novel sagas to an appearance in the original Baldur's Gate games, Elminster's lore is as deep as his spellbook.
Elminster, a planeswalker card, can serve as your commander and is open to spell-slinging and scrying with abandon. Viktor Titov's art depicts the master wizard while casting a powerful spell that will affect the entire universe. He is also seen hand waving, beard flowing and waving. Elminster's mantra is as wise as you'd expect: "Life has no meaning but what we give it. I wish a few more ye would give it a little."
1/10

Tasha the Witch Queen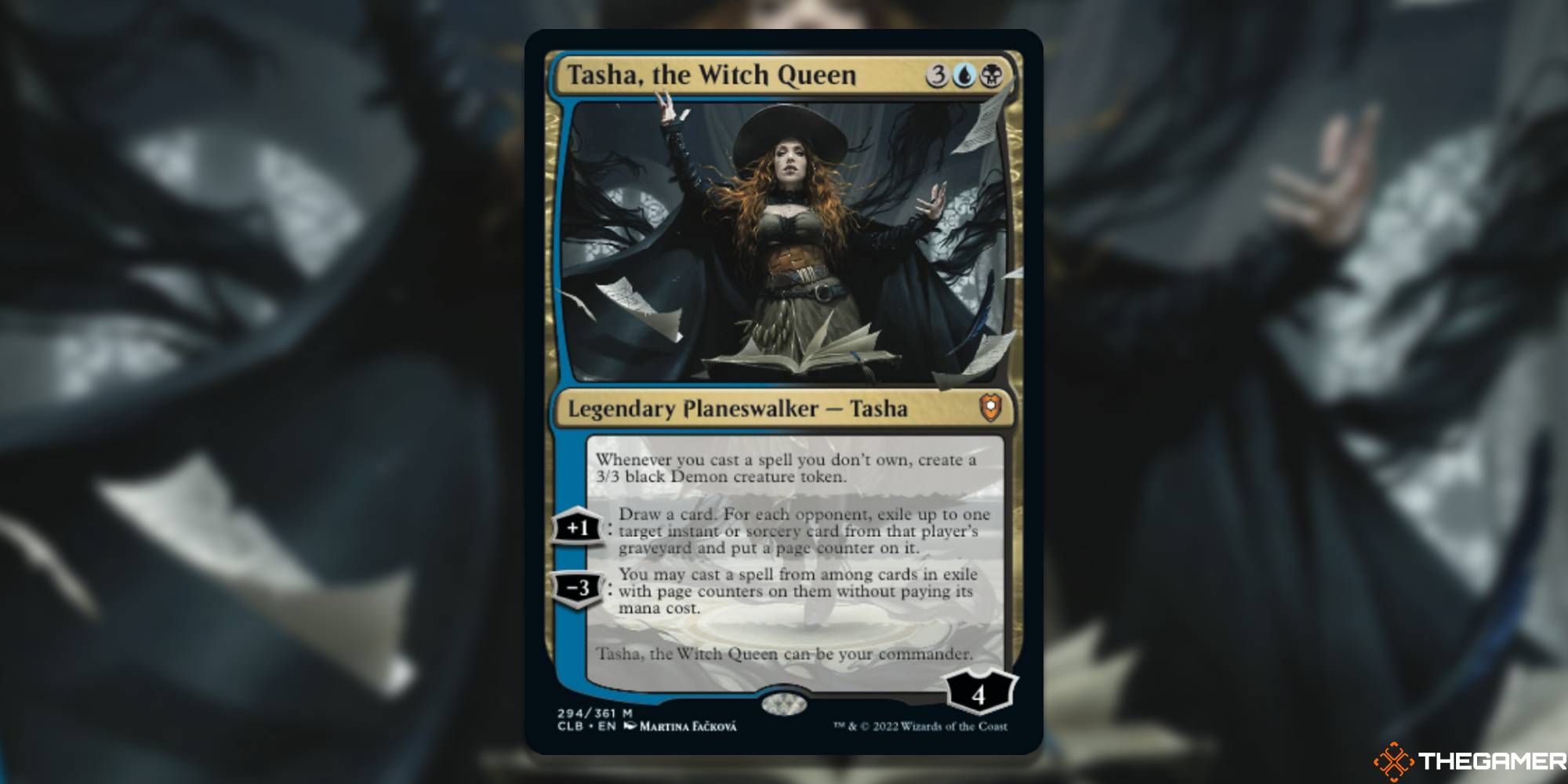 Artist Martina Fačková gives us the definitive vision of Tasha, the Witch Queen. Baba Yaga raised this beautiful lady in Feywild, where she had a rich and varied life. She also has a number of spells named for her. From her "hideous" laughter to otherworldly guises, her legend grows throughout the multiverse of D&D — and now MTG too.
The Witch Queen provides Dimir, (blue/black) with a paragon commander. Able to produce 3/3 Demons for stealing card casts from your opponents, you can punish fellow control decks by re-using their best spells from exile via "page counters." Tasha and Xanathar, Guild Kingpin can get up to some nasty stuff if you get them both on the battlefield together, arm-in-eyestalk.
NEXT: Dungeons & Dragons Books Beginner DMs Should Buy