Susie wanted desperately to remain sober.
Since the age of 16, opiates have been a problem for her. She has spent two years in prison and long periods away from her child. She relapsed on four occasions, fighting depression and falling back into her old lifestyle after each period of sobriety.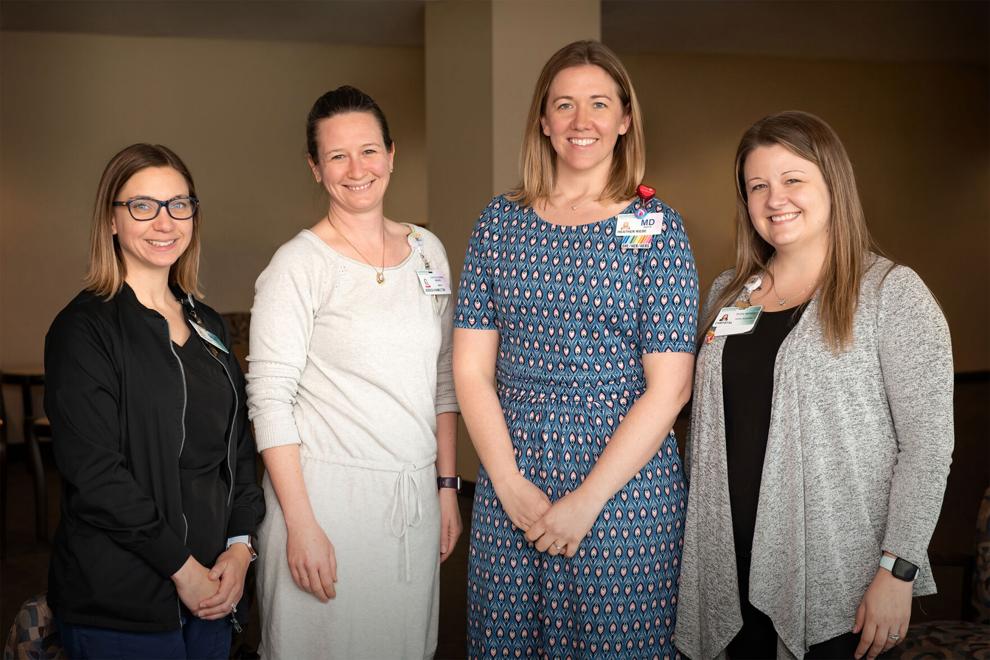 A second-pregnancy overdose sparked a "wake-up call" and led to a team compassionate of health care providers who helped her achieve lasting success, and a healthy and united family.
Susie, a 28 year old woman who requested that her lastname not be used, participates in the Pregnancy, Addiction and Social Support, PASS, Program at Gundersen. The team's holistic approach helps pregnant women actively struggling with substance abuse or in recovery to stay drug-free both before and after childbirth. The team is made up of an OB/GYN, a registered care coordinator, a midwife, and a social work, and offers support, internal and community resources. They check in on patients regularly and manage their mental health conditions if necessary with medication and therapy.
Heather Riese said that these patients are typically seen more often than for routine obstetrics care. She has a specialized training in perinatal substance abuse and mood disorders. Our goal is to use a team-based approach to build trust and relationships and help these patients be successful.
A new approach
Riese was appointed to take over the program when Dr. Charles Schauberger, an obstetrician who specializes in addiction medicine and developed PASS in 2011, retired. Schauberger was a member for the Wisconsin Maternal Mortality Review Team (WMRT) since 2008. The group's mission is to raise awareness about pregnancy-related deaths and develop and promote recommendations to state residents and the health care system to eliminate these deaths.
Schauberger stated that "drug use during pregnancy, and in the year following it, is one of key factors driving the increase in maternal mortality." The rise in drug overdoses and increased drug use has contributed to the rise in maternal mortality.
In a review of 2017-2019 maternal mortality data from 36 states including Wisconsin, 1,018 pregnancy-related deaths were examined, of which 987 had a cause of death identified. Mental health disorders accounted for 22.7% deaths. Co-occurring disorders such as mental health and substance abuse affect many Americans. According to the National Survey on Drug Use and Health, 17 million U.S. Adults experienced both disorders by 2020.
The Wisconsin Maternal Mortality Review, in a report from 2021, examined pregnancy-associated deaths involving overdoses between 2016 and 2019. It found that both mental health issues and substance abuse contributed to 92% of the cases.
In the United States, mental health issues and drug addiction are both prevalent. The number of people participating in PASS programs has increased in recent times. The program has 30 women enrolled, and an average of 75 patients per year. Candidates are identified during initial OB/GYN visits, when screening questions such as substance abuse and mental concerns are asked. Referrals may be made based on the patient's response and medical history.
Some patients who are referred to PASS may not choose to take part. For example, some people who have used drugs before but are now sober, might decline to do it "because they don't want to live their lives as a drug addict."
We say that it's fine if you don't need our services. Riese stated that they are happy to help you if you need assistance in finding behavioral health care or if you have any concerns. But the stigma is unfortunately always present. It's not just doctors who are affected. It's because these patients may not be as well-informed and are perceived as being difficult. "These are patients we can help, and improve the lives of their babies and themselves."
If the patient wishes, the team can arrange for them to be seen by a primary care physician. The family medicine team will keep PASS staff informed of the progress.
Riese said, "We work as a team at Gundersen so that these patients are not left behind."
Many women who have used the program in previous pregnancies choose to continue using it. This is because they feel comfortable and like they can trust the team.
Riese makes herself and Jessica Hamilton available to see PASS patients outside of their scheduled appointments. Chrystal Johnston, a social work assistant, helps homeless women find shelter or housing, food, and free childbirth classes and parenting classes.
Riese might prescribe buprenorphine to treat opiate abuse disorder or medication for mood disorders. The team helps to secure other services for the patient's overall care and health, such as therapy or psychiatry visits.
Johnson explained that the PASS clinic is a great way to start building this village.
The team helps patients in residential programs who require more intensive care.
Riese stated, "We're here to learn and not to judge."
The battle for success
The National Institute on Drug Abuse estimates that 60% to 80% will relapse after a year. Susie's sobriety was only five months when she left her first inpatient facility at the age of 19.
Susie said: "I went back to my old life."
She was active in using opiates at the time of her first pregnancy. She was then jailed for drug-related offenses near the end her second trimester.
After completing a second inpatient treatment program, she managed to stay sober up until the 11-month-old birth of her child. In a short time, she was back in prison for a full year. Only 12 months after her release, she spent another year in prison.
Susie's child was with her family while she was in prison. Because of Susie's drug use, the child had limited contact with his mother, except for supervised parental visits.
Susie said that relapses are difficult when you live in a certain lifestyle and are surrounded by people who use drugs or have connections with them. "I lived in the same neighborhood and ran into the same people. I knew that they didn't like me, and they weren't my friends. But I was still lonely. It is hard to meet new people. And going to AA meetings — that can be scary going alone."
It was nearly impossible to start a new career after being released.
"I was using while in prison and wanted to be clean. However, when you leave jail and are either homeless or living a trap house and have no phone and possibly no job, what do you do?" Susie said. There are many shelters but they are often surrounded by drug dealers. When there are so many obstacles, it is hard to stay clean.
Susie was in an abusive relationship and began using drugs again after she left prison in 2019. She went to Gundersen to seek care when she became pregnant. The team found her resources and attempted medication assisted treatment. Susie's temptation to use drugs was too great, and she overdosed four months into her pregnancy.
Susie said, "It was an awakening." "I knew that if I didn't get sober, I would leave the hospital without my child. That was something I could not wrap my mind around."
Relapse: The truth about it
The success rate for mothers staying healthy during pregnancy and being able to take their children home — a report to child protective services is mandated in cases of prenatal drug exposure — is "a mixed bag," said Riese.
Riese said, "I think that our patients do well in the long run when we can get them connected to treatment for their mood disorders and treat their mood disorders. This is true whether or not they are successful with their sobriety." "Patients want to maintain and become sober. They are highly motivated." There are many different stages in the sobriety process of pregnant women. Some have tried 10 times to be sober without success.
Riese says that most patients are honest about their substance abuse and will admit it when they "slip up."
"And we then say, 'OK. Thanks for letting me know.' Riese said, "We then move on."
The PASS team will be upfront with you about the possibility that child protective services may become involved. This could happen through the creation of a safety program, temporary loss in custody, or any other action. The outcome of the PASS program can be positively influenced by demonstrating a commitment.
Neonatal abstinence is the withdrawal process that babies who were exposed to opiates during pregnancy go through. The PASS Team works closely with pediatric hospitalists to ensure the health of the child before it can be released. The babies will be kept in hospital longer than normal newborns, and they can stay in the same room as their mothers. If a mother has been sober for 30 days or more, she may be encouraged to breastfeed.
Among PASS patients, the main substance they use is methamphetamine laced fentanyl.
"We have patients that have no idea — they think they're using pure meth and then it comes back positive for fentanyl," said Riese. "We've had patients who used marijuana that contained fentanyl."
Riese stated that methamphetamine is the hardest addiction to overcome, since it can change the brain chemistry up to two years after stopping use. Suboxone does not work with non-opiate substances.
Riese stated that the treatment of methamphetamine was a challenge.
Riese believes that the maternal mortality rate was likely much higher in previous years than previously believed. Riese hopes for improvements with more awareness about mental health, perinatal, postpartum, and psychosis depression, as well as increased resources.
Riese stated that Relapse rates postpartum are higher, since for some women, "the big motivator to stay sober for the baby no longer exists when they're pregnant." Postpartum Depression or untreated mental concerns can also pose a challenge to sobriety. Patients have died as a result of drug overdoses and homicides.
Riese stated that it was the most heartbreaking thing to witness a patient die who had been under your care and doing well. "It's a terrible thing for everyone."
Johnson said that patients have also lost the father of a child or a close relative to drugs.
Johnson explained that even though they may not have overdosed, their lives are still affected by the death. She's going to have to administer Narcan as she is eight months pregnant to someone overdosing.
Johnson said that the most difficult part of her role is seeing people "who desperately want to be clean, and who want to do what is right for their baby," struggle against the "beast" addiction.
"We want to see them succeed." It's incredible to see how happy, clean, and healthy they are after giving birth. They also love their babies.
Resilience and commitment
Riese noted that Susie "was really struggling with her addiction" at the time she entered the PASS Program. When Susie was unable to be reached, the team requested that a welfare assessment be performed. Susie was "actively using" at the time and felt their genuine concern.
Susie says, "I could've overdosed."
Susie's PASS team provided her with withdrawal support at the hospital, before she entered a residential facility for about five weeks. Susie received suboxone, and after her return, she met regularly with Riese Johnson Hamilton. Heather Bushman was also involved with her care.
"It wasn't just a check of your vitals. Any questions?" No? "See you next time," said Susie. "I felt that I could trust them and was comfortable with them. "They always told me they were proud of me and that I should keep going."
Susie was committed to her sobriety. She attended AA meetings, and became active in the recovery communities. She was sober at the time of her baby's birth in January 2022. The infant was completely healthy, and didn't suffer from any withdrawal symptoms.
The Gundersen Team was like my family. Susie said, "If I hadn't had people push for me, I wouldn't even be here." "Whenever I needed something, they helped me find resources."
PASS continues to be involved with patients after pregnancy. GunderKids offers a program to help families cope with addiction, mental health issues, domestic abuse or other barriers. In the first year, newborns are examined 17 times. Staff check with parents about access to essentials, sobriety and child development. They also ask them questions regarding stressors and challenges. Close evaluation and parent education increase vaccination rates, overall health measures and child abuse risk as the child grows.
Johnson said that a part of the PASS Clinic is to ensure that the experience doesn't end with a simple, 'OK you're finished, you have the baby, goodbye'. "It is making sure I get them connected to these programs in their community so they have that social work, they have the medical connection, all of that out in the Community as well as through the Clinic." "They're going be seen for whatever may be."
Riese continued, "It is amazing how resilient these woman are. The women who receive the support they require can help improve their own lives, as well as those of their children. They also benefit their community.
Susie's responsibility for her sobriety led her to move back to her hometown, about an hour outside of La Crosse. There, she surrounded herself by family and sober people, and stayed away from places and situations that could trigger her. Susie, who was engaged at the time of her second pregnancy, continues to support the PASS team throughout her third pregnancy.
Riese stated that "she is in a totally different place than when we first saw [her]. "She is rocking it and doing great."
Susie is due to be released from prison in about a week. She is a working mom, she is going to school, and she is a mother of two children, including the child her fiance has. Susie and her partner have created a stable and structured household for their six-year-old daughter, who had been struggling with behavior and emotions when Susie was in jail and fighting addiction.
Johnson said, "She has an incredible drive within her to accomplish things on her own. It's amazing." She knows we're here to help her through any roadblocks.
Susie says she hopes to be weaned off of suboxone someday, but that for now it helps her become a "productive society member," as she put it. She's been sober for nearly a year and half.
Johnson said, "Susie's story is one we want to share with our patients." "She continued to push through things that were hard for her because she trusted in the team and that her efforts would have a positive outcome — which they have."