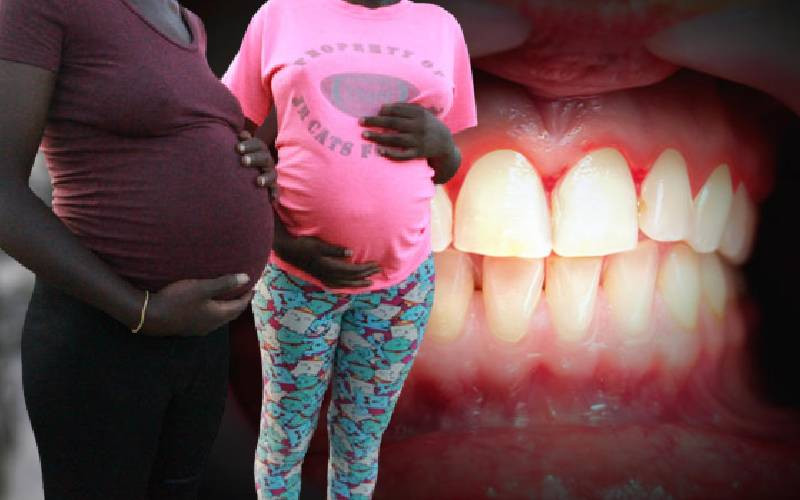 On a weekend, as I was brushing teeth, I felt swollen gums.
After spitting out the toothpaste I noticed that it had bloodstains.
I grabbed a quick mirror to examine my lower jaws. I noticed that my gums were swollen and one of my front teeth was turning a darker shade.
At that time, I was pregnant expecting my firstborn in four months' time.
As I was pregnant, I had a sweet craving and I thought that this could be the cause of my condition. I therefore began by reducing the amount of sugary foods I ate.
My toothache was persistent even after I changed my diet. Finally, I decided to see a dental professional.
The dentist observed me closely and told me I had periodontal (gum) disease, as well as a cavity on one of my front teeth.
She told me I needed to have oral surgery. After a few minutes, I felt relief after the extraction.
My second pregnancy was also accompanied by severe toothache and a headache.
Every pregnancy phase of my life has felt like a seasonally painful toothache.
As the foetus grew in my womb the hormone levels increased, causing the loosening of teeth bones.
I was afraid of losing another tooth, so I asked whether there was an alternative to the medication that would relieve my pain and leave my teeth intact.
The dentist said that severe pain, along with a fever, could stress the growing foetus.
Extraction was the only option to relieve the mother from pain and enhance the healthy growth of the foetus.
Through my interactions with friends and dental professionals, I came to realize that the only effective way to treat an infected or broken tooth for a mother-to-be is to extract it. 
Three of the 32 teeth that should be aligned in my mouth as an adult are missing. I can still imagine losing more teeth if I decide to become pregnant again.
Considering all, I have been keen on taking a less sugary diet and maintaining regular oral hygiene.
Related Topics